Rep. McDermott, a long time champion of global public health, has joined Doctors Without Border, WA Physicians for Social Responsibility and many other doctors and global health providers in sounding the alarm on the TPP. Here are some of the highlights from his recent statement:
"At the beginning of TPP negotiations… the U.S. asked the other 10 countries to accept new and very rigid intellectual property measures that would greatly limit availability of the affordable generic medicines that the success of U.S.-supported global health programs require. For example, more than 98 percent of HIV/AIDS medicines used to fight AIDS in Africa are generics, mostly made in Asia.
But the U.S.' current TPP proposal on medicines upends the present well-structured balance by extending monopoly protections much further. It would force people in developing countries to wait longer for affordable medicines, if they can access them at all. It would extend patents beyond the current 20-year norm and block national regulators from using existing clinical trial data to approve the production of generic or 'bio-similar' drugs.
"Alarmingly, the proposal also outlaws 'pre-grant opposition' that allows doctors and patients to provide information to their governments about patents they believe do not meet national rules, an important democratic safeguard. The proposal also requires the patenting of new versions of old medicines, even when the new versions offer no additional therapeutic benefits. It even requires patenting of surgical, therapeutic and diagnostic methods, which not only is unethical but also could increase medical liability and the cost of practice."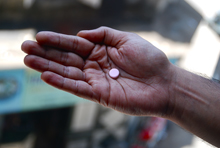 "A TPP agreement that exacerbates already-delayed access to generic medicines is unacceptable. TPP has been called a "21st Century Agreement," but it will be anything but fresh if it makes crucial medicines even scarcer throughout the developing nations of the world."
Thank you Rep. McDermott for your leadership and unwillingness to compromise people's lives for profiteering. TPP is not the first trade agreement used by pharmaceutical companies to expend their monpolies on the backs of sick and dying people. Fire in the Blood documents the millions of preventable HIV/AIDS deaths throughout Africa, Asia & Latin America on their hands as they relentless fight to extend patent protections under the WTO through TRIPS (Trade Related Aspects of Intellectual Property Rights). Learn more
Stephanie Burgos from Oxfam offers a thorough analysis of how US Trade Representative nominee Michael Froman is promising to go after countries like India for producing generic life-saving medicines