During the recent WSLC Convention in Vancouver, WA there was a sea of delegates wearing 'Stop TPP No More NAFTAs' stickers thanks to Shannon Hagen and IBEW Local 46 for making them and Celso Tolman for very thorough distribution! Celeste Drake, trade expert with the AFL-CIO gave a rousing plenary presentation, which led to an overflowing workshop later in the day, where we were joined by Mark McDermott, who never fails to enliven a room! Special thanks also goes to Stan Sorscher for his smart workshop edits on the fly. Throughout the workshop and convention, we distributed action flyers on Fast-Track, encouraged outreach to Congressional offices on the DeLauro letter, talked to locals about the critical role of members in the work of the WFTC and signed up individuals for #TPPTuesday and newsletter updates.
The WFTC hosted a very well attended WFTC lunch with Celeste that resulted in immediate actions when some WFTC members reached out to their internationals on the spot to see if they had passed TPP resolutions. If you have not yet, please ask your international if you have a resolution on the TPP and if so please forward to the WFTC.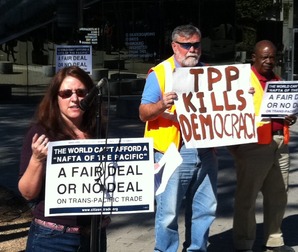 Thanks to IBEW Local 46 (Shannon, Nicole & Bob) the Construction & Building Trades passed 3 TPP resolutions, and SPEEA with leadership from Judy Mogan, Brent McFarlane, Becky Hewitt, Stan and Chelsea passed another TPP resolution for good measure.
Special appreciation to Lynne Dodson, Secretary Treasurer of the WSLC & WFTC Boardmeber for arranging for Celeste to attend the convention and for such an important focus on the TPP. Also many thanks to everyone at the WSLC for an incredibly well organized event.
Then the first week in August, thanks to Shannon Hagen's monumental efforts, the WFTC held one of only two workshops offered at the Building and Construction Trades Convention in Wenatchee. It was a huge technical feat as Celeste was in DC, however with Shannon's technical savvy, we were able to webinar her in. IBEW packed the room along with some new allies and it was an important opportunity to focus on the impact of the TPP and the building/construction trades. Thank you to the enormous team effort at the WFTC!